It's important to convert your customers with lower-funnel ads. They already know your brand and have likely checked out a few of your products.
But how to achieve this at scale when you rely on your product catalog feeds? You don't have enough design bandwidth to edit every single image for all of your items and their variations to make sure they convert well. You can't even pick the best image to use, and likely stick with the default boring and generic object on the white background shot.
We're shaking things up with lower-funnel ads by ditching the boring white backgrounds and generic product shots. Although their main purpose is to generate conversions, lower-funnel ads quite often don't do justice to the brand. They look just the same as every other brand, and they definitely are not the thumb stoppers they should be.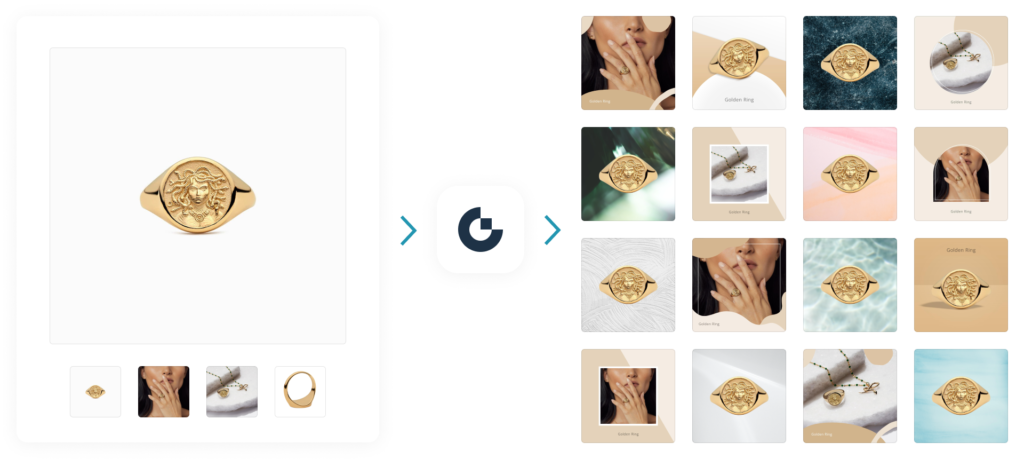 We take your existing product feed and apply a variety of transformations to produce the most beautiful ad images there are, by doing the following:
Automatically picking the best looking image out of all images for the product.
Automatically picking desired type images (flat lay, model shot, etc.) to use in for your catalog feed.
Adding badges (sale, best seller, just launched, etc.).
Adding colour-matched frames and various backgrounds.
Adding dynamic AI generated backgrounds.
Adding pricing and discounting details.
Adding in-image copy with seasonal messaging, brand copy and product details.
Adding social proof, reviews and ratings.
Upscaling images with low resolution.
There are endless ways to transform your product images and increase your ROAS for your catalog ads while maintaining and growing brand identity across the advertising funnel. By using Automatic Creative with Genus AI Product Catalogs you maintain creative consistency and increase customer trust.
We work with your team to build the best initial selection of ad images and help you seamlessly integrate and launch this as a new feed to your social media platforms like Facebook / Meta, Instagram, Pinterest, Snapchat and TikTok.
Ready to unlock your ad and creative performance with Genus AI? Drop us an email to learn more or sign up for a free trial here.
More marketing AI news
Unique Designs for Every Brand and Category
Introducing a feature allowing for unique, unlimited designs tailored to every brand and category in your product catalog.
Read the Full Story
Number of Shopify stores globally triples during the pandemic
The eCommerce sector continues to expand with the pandemic acting as the main catalyst as the sector strived to fulfill the changing consumer behavior. The sector's growth is evident by the number of live websites on platforms like Shopify.
Read the Full Story
AI Marketing Technology is Changing How Brands Are Producing Video Ads, Using Predictive Analytics
Video is the fastest-growing ad format, currently amounting to 35% of all digital ad spend, yet for brands and digital agencies it is the most expensive to produce and test. AI is disrupting the video creation process and enabling producing them at scale never seen behore.
Read the Full Story